A Perfect World Sit and Entertain Me Award.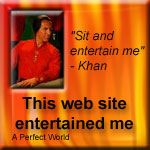 September 27, 2003
From the A Perfect World Web site:
A very interesting site that serves as a great introduction to game theory. Features lots of resources that are kept up to date. This is one of the best academic sites that I have reviewed, both in terms of design and content.
Game Theory .net is an eclectic resource for educators and students of game theory, the field of economics recently popularized by the movie, A Beautiful Mind. Beyond lecture notes and links to text books, the site contains interactive applets and games demonstrating key concepts. The site offers a light educational view of the field through examples from popular culture, movies, books, music, and television, as well as current news.